Due to the fact that the Derbyshire Times no longer produces reviews of Amateur performances this page is not up-dated regularly, but is here for archive purposes.
Review: Hello Dolly by Peak Performance.
Derbyshire Times website Friday 3rd June 2016
Lavish and lively, Hello Dolly is a dream of a musical with its larger-than life characters and well-known songs. Hard-working Peak Performance make it a very pretty production at Chesterfield's Pomegranate Theatre.
Multiple set changes include an elegant hat shop which fills the full width of the stage and an expensive restaurant where the focal point is a staircase on which the leading lady makes a grand entrance.
Jo Hooper's choreography is delightful, especially in the restaurant where waiters weave amongst each other holding plates of sumptuous fare aloft in a scene bordering on balletic.
The lead character of meddling matchmaker Dolly Levi is played by Joan Hopkinson, who makes the role very much her own. Bold, brassy Dolly she is not, Joan plays her more of a gentle, wheedling fixer who wins over the audience's heart as the show progresses. Vocally, she triumphs in the slower numbers such as Before the Parade Passes By and Hello Dolly.
Rob Hall gives a terrific performance as the wealthy, tough taskmaster Horace Vandergelder who commands the stage with his imposing presence and his rich voice ringing out as he leads the men in singing It Takes A Woman.
Comedy is in the capable hands of David Hopkinson and Alex Hayward-Browne who play Vandergelder's employees Cornelius and Barnaby. They use their boss's absence to escape to New York where they learn to dance in the hope of picking up girls, but end up in some ridiculous situations trying to dodge their master.
Debi Alvey is delightful as the golden-voiced hat shop proprietor Mrs Molloy as is Jo Hutchesson as her assistant Minnie.
The sound could have been better in the first half of the opening performance last night (Thursday), producing grumbles from fellow viewers near the back of the auditorium that they couldn't hear what was being sung or, at times, being said.
Hopefully this will be first-night teething problems and the show will flow smoothly tonight (Friday) and tomorrow.
Hello Dolly is directed by Mike Spriggs with musical direction by Nick Stacey.
Review: Peak Performance in Guys and Dolls at Chesterfield's Pomegranate Theatre
Derbyshire Times website 29th May 2015
It's a safe bet that Guys and Dolls is always going to be a winner when it comes to drawing a crowd.
Some of the best-known numbers in musical theatre, colourful choreography, bad boys made good and the most unlikely of romances make it box office gold.
A sizeable audience at Chesterfield's Pomegranate Theatre last night (Thursday, May 28) lapped up the fable of free-spirited gambling guys and strait-laced mission dolls.
The production is as bright as the paint palette of suits sported by the colourful high-rollers and spins along like well-thrown dice.
Backcloths depict a street scene in Broadway and a sewer where the gamblers stake their last dollars. The minimalist staging allows the large cast plenty of space and adds to the atmosphere of a big, empty mission hall under threat of closure.
Musical highlights include Sit Down You're Rocking The Boat, captained by director Mike Spriggs in the role of Nicely Nicely Johnson who dances across the stage as he sings; Take Back Your Mink, led by Joan Hopkinson in a delightful performance as wannabe bride Miss Adelaide; and Luck Be A Lady, headed by David Hopkinson in the role of ace gambler Sky Masterson.
In her role as mission doll Sarah Brown, leading lady Debi Alvey's beautiful voice rings out in If I Were A Bell and blends well with that of her opposite number David Hopkinson in I'll Know. There's a delightful scene in which Sarah and Miss Adelaide imagine what married life would be like and their respective beaus appear either side of them to tackle domestic duties.
Rob Hall gives a polished performance in the role of Nathan Detroit, whose focus is pulling in the big bucks on crap games rather than whisking his fiancee of 14 years up the aisle.
Lovely dance scenes set in nightclubs on Broadway and in Havana, which are choreographed by Jo Hooper, and toe-tapping tunes, played by an orchestra conducted by musical director Nick Stacey, add to the vibrancy of the production.
Guys and Dolls continues its run at Chesterfield Pomegranate Theatre until tomorrow (Saturday, May 30).
Oh what a lovely evening with Peak Performance at Chatsworth
Derbyshire Times on-line review September 2014
Published on the 19 September
2014

Few sights are more pleasing to a company than to see every seat filled on opening night.
The allure of Chatsworth and the reputation of Peak Performance ensure that the group's concerts in the stately home's beautiful little theatre are always a hot ticket.
Songs and scenes from Rodgers and Hammerstein creations are linked by narrator Christine Kotecha who delivers a potted history about each of the six works, which makes this an entertaining and educational night out.
The production takes the audience on a a pleasure trip from the sun-baked island of South Pacific to the cowboy country of Oklahoma, the royal palace of Siam in The King and I and on to the hills of Austria for The Sound of Music. There's a musical merry-go-round aboard Carousel before a hop along to the State Fair, the latter being the least well-known of the musical offerings.
Ensemble singing is particularly good, with lovely harmonies ringing out in imaginative arrangements by musical director Nick Stacey to the piano accompaniment of Joanna Rynott.
Highlights of the performance include You'll Never Walk Alone from Carousel, led by Debi Alvey's glorious voice, and Getting To Know You from The King and I.
Impressive singing by the young members of the company are led by Michelle Grace who hits a high note in her rendition of Lord and Master from The King and I; Darcy Thorpe's delightful solo When I Marry Mr Snow from Carousel and Charlotte Barlow and Josh Holmes in a heart-warming performance of I am Sixteen going on Seventeen from The Sound of Music.
Highlights among the older members' solos include Mike Spriggs' rendition of A Puzzlement? from The King and I, Bob Hall's rendition of Edelweiss, Joan Hopkinson's lilting Many A New Day from Oklahoma and Heather Spinks' prettily sung Caint Say No from Oklahoma.
Sailor suits, gingham skirts, cowboy hats and neckerchiefs are the order of dress in the first half' and gowns, gloves, gems and evening dress for the second.
Projection of some of the voices could have been better at last night's opening concert but I'm sure this will improve as confidence build. An Evening with Rodgers & Hammerstein continues at Chatsworth tonight (Friday, September 19) and tomorrow at 7.30pm.
GAY BOLTON
More stories
REVIEW: Peak Performance at Chatsworth House
Derbyshire Times 14th September 2013
Few things can be more uplifting on a rainy evening than songs from the shows performed in opulent surroundings.
Peak Performance lived up to their name last night with a spectacular concert in the exquisite theatre at Chatsworth House.
Stealing a march on a professional production of Fiddler On The Roof which hits Nottingham next week, the company launched their performance with songs from the musical.
The 11-strong Fiddler collection got off to an impressive start with a brilliantly performed, roof-raising rendition of Tradition by the company which delighted the packed audience.
Highlights included the beautiful singing by Lucy Kent, accompanied by Kelly Gibbons and Alex Hazard, of Matchmaker; a lovely interpretation in song, mannerisms and dance of Tevye's best-known song Rich Man by producer Mike Spriggs and a deeply moving Sabbath Prayer led by Mike Spriggs and Joan Hopkinson, the latter lighting and extinguishing a candle.
Younger members of the company got their chance to shine too, with soloist Josh Holmes giving a praiseworthy performance of Miracle of Miracles.
This adaptation of Fiddler may have been slimmed down to fit the time constraints of the concert but it lost none of its power to move and entertain an audience.
After the portrayal of impoverished villagers living under the threat of impending Russian revolution, the accent was on glamour and entertainment in the second half.
Gorgeous gowns and satin gloves, sparkling tiaras and feathered head-dresses for the ladies, formal evening suits and white gloves for the men made a spectacular opening to the Ivor Novello collection.
All the usual suspects were there: We'll Gather Lilacs was one of the high spots, being beautifully sung by the chorus; Market Fair was confidently performed by Sue Spriggs, Diana Leivers, Julie Fletcher, Jon Davies and Colin Tarrant; and a comical rendition of Mother Came Too, was aired by Colin Tarrant, with a little prompting from accompanist Chris Flint.
Debi Alvey's beautiful voice lent itself to Highwayman Love and the 13 men in the chorus got in on the act by each kissing her hand.
A kiss also sealed husband wife Richard and Sarah's impressive performance of Easy To Live With, which was another gem in the Novello selection.
Special praise goes for youngest soloist of the night, 13-year-old Darcy Thorpe whose enchanting singing in Fly Home Little Heart really tugged the heart-strings. Teenagers Charlotte Barlow and Eleanor King also drew admiration for their performance of Wings Of Sleep.
The concert gave the audience two opportunities to sing along, encouraged by musical director Nick Stacey and led by Rob Hall for Rose of England and Jon Davies for Keep The Home Fires Burning.
A fabulous night of song in a fabulous venue - shows don't get much better than this.
GAY BOLTON
Peak Performance's sparkling production of The Merry Widow
Derbyshire Times 31st May 2013
No doubt useful and important work goes on in the diplomatic community, but anyone watching The Merry Widow could be forgiven for thinking it's one party after another.
Franz Lehar's glitzy, lighthearted operetta is Peak Performance's spring production at the Pomegranate this week. It tells of a rich widow whose money can save a small country from bankruptcy; maybe someone should mention the idea to George Osborne?
Sumptuously costumed and played against lavish scenery which represent the Parisien embassy, a palace garden and Maxim's upmarket night club, it captures the glamorous, indolent spirit of 19th century life in the fast and wealthy lane. The gaiety of the era is well illustrated by some lively chorus work, and by the six Grisettes, Maxim's dance troupe who produce a spirited, if brief, can-can in the final act.
Flirattion and romance, mainly illicit, is the order of the day. Camille (Kerry Hucknall) is in love with Valencienne (Joan Hopkinson), the highly respectable wife of the oblivious ambassador Baron Zeta (Mike Spriggs), and she reluctantly with him. Olga (Debi Alvey) flirted with anything in trousers. And Anna Glavari, the eponymous merry widow, is the object of every man's attention – or rather, her considerable fortune is.
Sarah Potts puts her glorious soprano voice to work on familiar numbers such as Vilia and The Merry Widow Waltz, and turns her acting talent to Anna's warm, open and sometimes irreverent nature.
Sparks fly between her and Count Danilo, her long-ago lover, played by Richard Potts, her husband in real life. A welcome new face on the Chesterfield stage, though well known to audiences elsewhere in Derbyshire, Richard makes Danilo impish and devil-may-care, a man about town who discovers he has a heart after all.
There are plenty of comic moments, largely from Njegus (Rob Hall), the ambassador's camp, put-upon factotum, and also from the entire men's chorus, whose high-kicking dance line has to be seen to be believed.
Peak Performance are gaining quite a following, and will continue to do so if future productions live up to this one.
LYNNE PATRICK
Chatsworth theatre is a stunning venue to showboat songs from shows
Derbyshire Times 14th September 2012
The Duke of Devonshire's restored private theatre at Chatsworth House is the setting for a rare public performance this week. when spectators have a golden opportunity to follow in the footsteps of royalty.
Queen Victoria was entertained there, as were the Prince and Princess of Wales (who became King Edward VII and Queen Alexandra).
The theatre is a work of art, a mini Painted Hall in which your eyes are drawn to the dark artwork on the ceiling, the gold-leaf lamps on the walls and the plush red velvet drapes decorated with lavishly embroidered tie-backs.
This stunning venue also boasts superb acoustics, perfect for Peak Performance's sell-out production of songs from Les Miserables and Showboat, which is running until Saturday, September 15.
Picking the world's most successful musical is a clever move, especially with a film version of the story on its way to the big screen later this year.
For those unfamiliar with Les Mis, a narrator sets the scene by summarising scenes from the story of revolution and revelation.
The company injects power, passion and poignancy into the show's trademark songs, with stunning performances from guests Andrew Lockwood as Javert, Richard Potts as Marius and Sarah Potts as Cosette.
Two deeply moving performances from the younger members of the company mark them out as stars of the future. Charlotte Barlow, playing the dying waif Eponine, puts great emotion into her performance of A Little Fall of Rain, which she sings in a trembling voice as she is comforted by Richard Potts' Marius. Twelve-year-old Darcy Thorpe embodies the innocence of the young Cosette as she leads the company in the song Castle on a Cloud.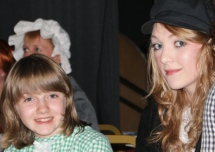 Light relief from the rather heavy subject matter comes from Rob Hall as the lively inn-keeper Thenardier and Freda Chapple as his plain-speaking missus.
Directed by Mike Spriggs with musical direction by Nick Stacey, this production is one of contrasts. The dressed-down sombre story of Les Mis gives way to the richly costumed, lively tale of Show Boat.
The songs sparkle like jewels around the necks of the ladies chorus. Favourites such as Ol' Man River, sung by Richard Potts, and Bill, performed by Freda Chapple, go down a bomb with the audience.
Andrew Lockwood and Sarah Potts head the cast in the roles of Ravenal and Magnolia, giving an exquisite rendition of Make Believe.
Josh Holmes and Heather Spink breathe youthful life into their choreographed party piece I MIght Fall Back On You.
And in the best of music hall traditions, Julie Fletcher leads the audience in a singalong of After the Ball which is fine for those who know the words.
Queen Victoria would have been amused.
GAY BOLTON
Performers have the sunshine of Oklahoma to rain-lashed Chesterfield in their production of a popular musical.
Derbyshire Times 8th June 2012
A large crowd of spectators gave a warm first-night welcome to the cast of Peak Performance, who are on a mission this week to entertain and raise money for Ashgate Hospice.
Seasoned troupers and new additions to the company put energy and enthusiasm into singing and dancing their way through the Rodgers and Hammerstein classic Oklahoma!
In his last role before taking time out for parenting duties, Matt Bird gives a show-stopping performance as Curly. Easily the best voice and best performer on stage, his rich singing fills the auditorium and he oozes confidence without being cocky.
His opposite number Joan Hopkinson, as feisty Laurey, shines in her signature song Many A New Day and conveys the feeling of fear well when her character is in the clutches of an unwanted admirer.
Young newcomer Dayne Harris triumphs as the sinister misfit Jud Fry, getting under the skin of the brooding, resentful, growling outcast. His scene with Matt Bird, in which they imagine Jud's death is the highlight of act one.
The dark undertones of the musical are contrasted by comedy from Rob Hall and Heather Spink playing wide boy pedlar Ali Hakim and flighty Ado Annie.
Pace and punch occasionally faltered last night during the overlong first half which would have benefitted from pruning.
Directed by Mike Spriggs, with musical direction by Nick Stacey and choreography by Rachael-Louisa Bray, Oklahoma! is running at the Pomegranate Theatre until Saturday.
What are your views on this production of Oklahoma? Email your comments to: gay,bolton@derbyshiretimes.co.uk
GAY BOLTON